If you're thinking about ordering custom patches but you don't know what kind of patch will suit your logo or design best, we can help! Choosing the right patch style for your design can be a little tricky, especially once we start using patch manufacturing lingo, so we're going to break it down for you. We offer 5 different styles of patches, and two label options.
Embroidered Patches
Embroidered patches, or twill and embroidery patches, are the classic patch style and they've been around for a long time. Your grandpa probably has an embroidered patch hat hiding somewhere in his garage. This classic patch has a fabric backing and the designs have been stitched on top of the fabric, creating some awesome texture and dimensionality. Embroidered patches are great for simple designs with larger lettering and single color shapes. 
Woven Patches
Woven patches are a great alternative to embroidered patches when your design has too many small details or small letters. This type of patch is created by weaving your design into the fabric. They have a smooth, flat texture and offer a clean, streamlined look. Woven patches are great, too, if you're very particular about your design translating to a fabric patch, and we use Pantone colors to match your design.
Sublimated Patches
Printed or sublimated patches are awesome for designs that feature gradients, or are more image-based than text-based. Your design is printed as is onto a piece of fabric before being cut and merrowed. Sublimated patches have a smooth, flat texture, and are growing in popularity due to the ability to print any kind of artwork onto them.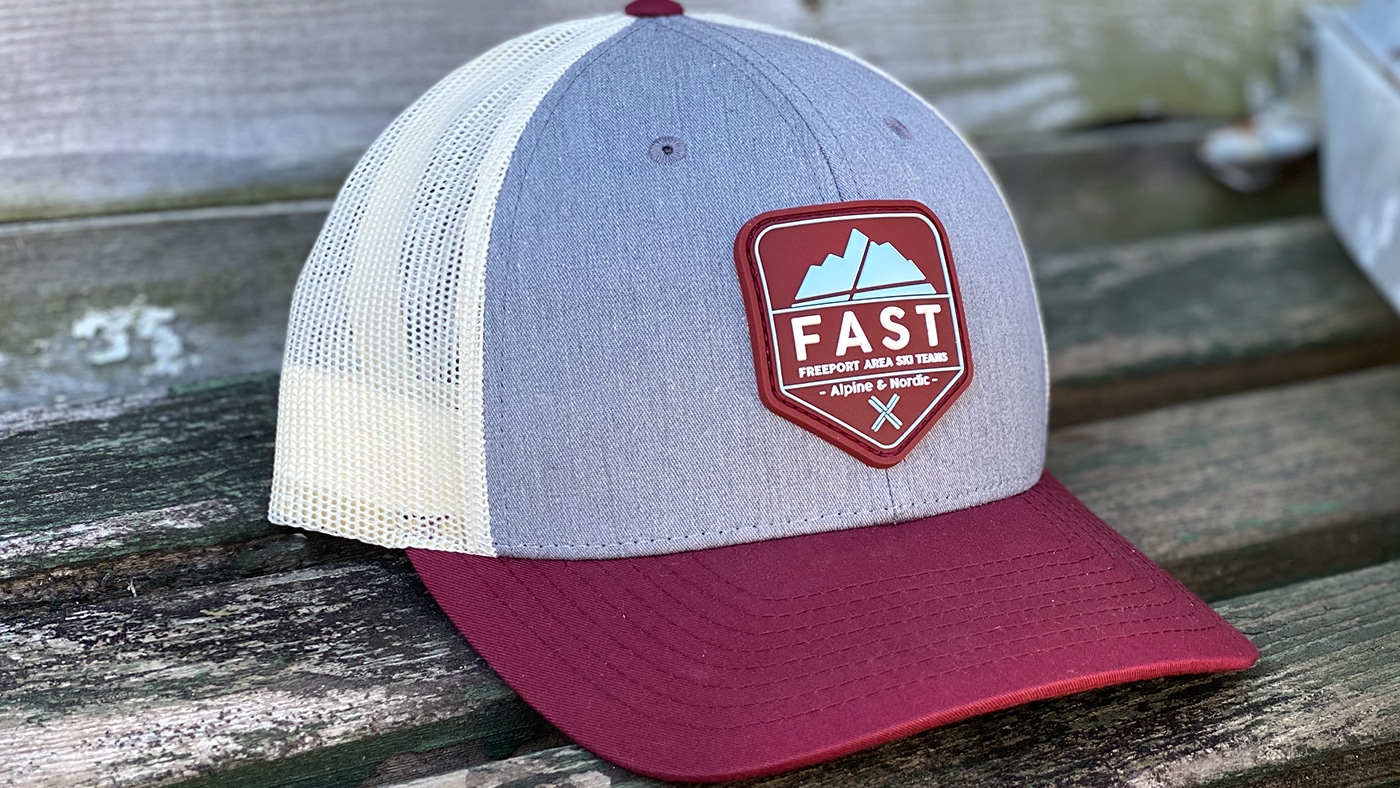 3D PVC Patches
3D PVC patches are probably some of the coolest patches we've made, and often can be a very versatile style that accommodates a lot of different designs. The best part about PVC patches is, of course, their 3D texture. A custom mold is built according to your design, the background is typically the flat level, small lettering is on the second level, and graphics tend to be on the third level and are usually beveled in some way. PVC patches are perfect for simple and detailed designs and use Pantone colors to match. 
Genuine Leather Patches
Genuine leather patches offer a classic and slightly rustic/natural look and accommodate two-tone designs. Many designs can be made two-tone, but gradients don't transfer and image-based designs with many colors aren't suitable for leather patches. Among our leather patch options are different colors of leather, including shades of tan, black, grey, and blue. The debossing is usually a darker color than the leather, but you can also have the debossing colored – white, red, metallic, you name it.
Suede and Woven Labels
Suede labels and woven labels are excellent options for any additional text or branding that doesn't quite belong on your main patch. We can make clip labels which fold over the edge of the hat band or beanie cuff, or labels that lay flat that have a heat cut edge, no merrow. 
As you can see, patches can accommodate just about any design and we'd love to work with you to adapt your design to a sweet patch that you can apply to hats, beanies, jackets, bags and more! We make choosing the right patch style for your design and your hat a breeze with our